Sure-Grip Shell Plates for Progressive Reloading Presses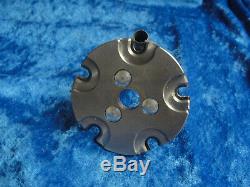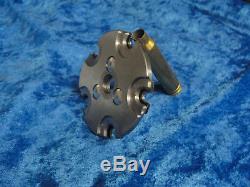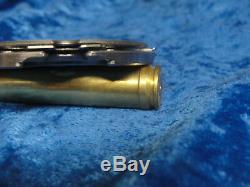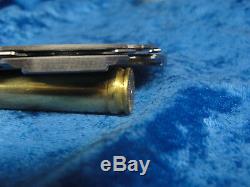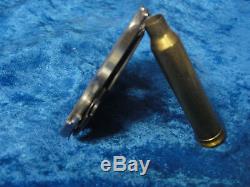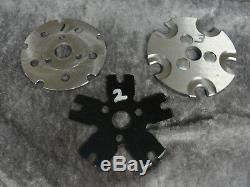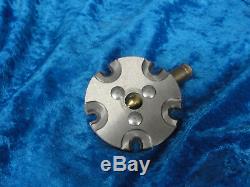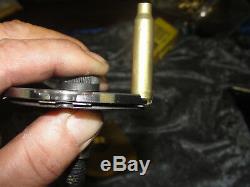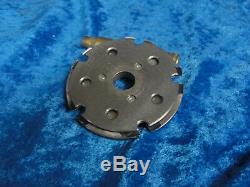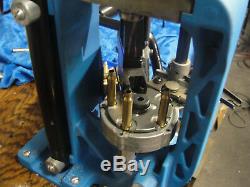 A brand new Development, brought to you exclusively by the Folks at Snowshooze Machine Works. Guys, these are the most un-forgiving assemblies I have ever made. I have figured it all out now, there just are no short-cuts in the manufacture of these. So, I will get these out very soon now, and then we can start working on other calibers, production manufacturing, and end price My many thanks to you all who are in on this.
In the mechanical functions of the Progressive Reloading Press, we have been systematically identifying. And addressing all factors which affect smooth consistent production operations in order to maximize. The inherent potential of the equipment.
This instance addresses probably the most basic and elemental aspect of the process. Seemingly, this detail has been largely overlooked since the advent of the first Single-Stage. Reloading Press, with a couple exceptions such as the RCBS universal 3 jaw Shell Plate and the. Generally speaking, case holding has been accomplished by simply slotting out the holder. With the necessary clearances to accommodate consistent case cycling into, throughout the various.
Reloading processes, and out of the holder. This method is the current convention, and it works well. Quite well, and shall continue to do so. In fact, it works so well, we now realize processing rates in excess of 2,000 rounds per hour.
However, as well as it works, the absolute potential of these wonderful presses have not been fully. -------- We can do better. I could go on forever. Now, these may be built for speed, but the original intent was not that at all.
We just wanted to eliminate case jiggle to alleviate powder spillage. But, there ain't no reason why we can't hit 3,600 cycles per hour, or better. All we need to do here is get the brass into the machine, through the stages and back out.
Without crashing the cases or spilling powder. So, all we have to do is smooth it up and make things a bit more positive. ---- The Sure-Grip case holding system. The solution turned out to be pure simplicity and common sense.
Aside of actually making it happen. To settle them cases down, we landed them not onto a plate, but onto a leaf spring.
And, we did that by making the shell plate in three basic pieces. It has the correct geometry for the advancement if the shell plate.
It positively presses the brass up to the caliber plate. This is the unique part of the system, and is the determining piece of which shell plate size. Or caliber we are dealing with. So, all we have done here is instead of shoving that brass into a sloppy hard shell plate.
We shove it into the jaws of a leaf spring clamp. That is the whole game. Now your brass is surely gripped in the shell plate, there is no wiggle, no jiggle, no powder.
And there is no requirement to use the common bumper pins to re-position the brass under each. At least not even at the fastest speeds attainable with the current line of automated. They are just going to have to try a little harder. Ok guys, I have just gotten my prototype finished after having worked on it for a considerable time.
Launch the product and get the ball rolling. We are starting out with the Dillon XL 650 and the Dillon Super 1050 presses as that is what. We have on hand, and we will have to acquire all other models of presses in order to assure fit and.
Function before we move on to them. 300 Blackout (#3) and 9MM /. 38 Super / 9X21 CONV. And, we are stating 3 weeks of lead time in our initial offering, which is realistic.
In a matter of days. Now, for caliber selection, please use the Dillon chart here. And call out the exact shell plate number from that. That ain't all important now, but when I start adding them in, it is the only way to keep it straight. Pictures shown are my prototype, right off the machines.
I don't want them to rust up. Note: All pricing had to be filled in for everything... For anything that is not up yet, those prices are box-fillers.
My many thanks for your interest! Cover ed under Patent No: US 10,267,609 B1. Add a map to your own listings. The item "Sure-Grip Shell Plates for Progressive Reloading Presses" is in sale since Saturday, November 3, 2018.
This item is in the category "Sporting Goods\Hunting\Reloading Equipment\Presses & Accessories". The seller is "snowshooze" and is located in Anchorage, Alaska.
This item can be shipped worldwide.
Model: Sure-Grip
Country/Region of Manufacture: United States
Type: Production Reloading Accessory
MPN: SGSH
Press Type: Progressive
Brand: Snowshooze Machine Works