Sure Grip Pro Purple Cue and Casemaster Q-Vault Supreme Black Cue Case, Multi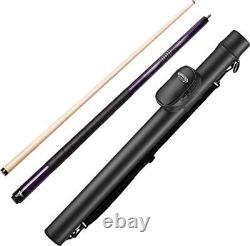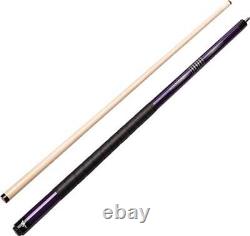 Keep your victory safely within reach with the Viper Sure Grip Pro Purple Cue and Casemaster Q-Vault Supreme Black Cue Case bundle! This stylish combo is here to let you take on any challenger anywhere and bring your A-game with you! Built-to-last from Canadian maple hardwood, the Sure Grip Pro Purple Cue will be your faithful companion in your quest toward pool stardom for years after you first introduce it to your opponent. The Pro Taper of the cue makes each stroke feel balanced and organic, while its Le Pro leather tip keeps miscues to a minimum by providing a steady grip on the cueball. Moreover, the shaft and butt are fastened together via ABS joints, optimizing the feedback of every shot.
Its most noteworthy feature, however, is the rubber wrap on the butt of the cue, provided to steady your grip for optimal shooting. Meanwhile, the Q-Vault Supreme will keep your cue as safe as possible no matter where you take it. External threats are kept out by its sleek leatherette exterior, while the cloth-lined hard resin shell of the interior ensures your cue's ability to withstand any impact without cracking. It also boasts a convenient handle for easy carrying and a large pocket for storing all your accessories, such as chalk, shapers and extra tips. Crafted from Canadian maple hardwood for added durability Rubber wrap on the butt provides a more comfortable grip for steadier shooting Sleek Pro Taper balances each stroke for added accuracy Le Pro leather tip curbs miscues and tightens your grip on the cueball Q-Vault keeps your cues safe with both a leatherette exterior and a cloth-lined resin interior.