Sure Grip Clam Shell Base & Spinner Knob for 2014-2023 Honda Pioneer 700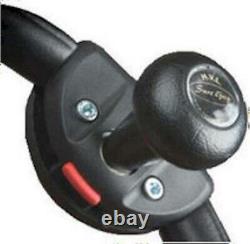 Sure-Grip Spinner Knobs provide a secure way for users to turn a steering wheel with one arm, leaving the other hand free to operate gas and/or brake pedals. Clam Shell Base & Spinner Knob Features.
Minimal Steering Wheel Damage: Our clamshell-style base distributes the clamping force across the maximum possible area, reducing the pressure points that damage steering wheels. Easy Spinning: This is the only spinner knob on the market with built-in high-speed bearings. Quick Release: Removing the knob from the base is as simple as pushing the red release button on the base. Easy Insertion: The taper on the end of the pin makes sliding the knob back into the base a breeze. No need to press the release button, just press it in and go.
THIS PART FOR OFF-ROAD MACHINES ONLY.