Monza Sure-Grip Wheels Red 95a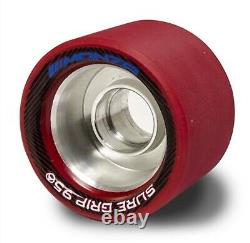 Brand New Monza Sure-Grip Wheels. Stiff and fast aluminum hubs. Perfect for DERBY adding the ideal about of firmness and grip. Purple - 93a, Grey and Red - 95a, Teal - 98a. Precise bearing seat allows for perfect bearing position.
The Monza wheel is a brand new wheel in the Sure-Grip line of products. This brand new compound was designed to work better than its predecessor, the Power Plus wheel. Completely redesigned to offer a better look and feel in every way. A cross between our Zombie and Cannibal wheels, grip of the Zombie and speed of the Cannibal. Perfect for every day skating but also great for derby and speed skating. All our products are brand new and sealed. We take our reputation seriously.